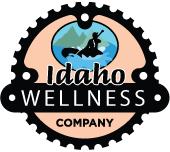 $25 Donation to your choice of 3 local charities covers your ENTIRE first visit!
That includes exam, x-rays if needed, consultation, and treatment!
All that for a $25 donation, get adjusted and help your community.
BOISE'S FAVORITE CHIROPRACTOR
Idaho Wellness Company
A little twinge here, a nagging ache there…a spinal adjustment when needed can keep your body working like a well-oiled machine. Sometimes it can seem like almost nothing at all causes soreness or pain, from a sneeze to just "sleeping on it wrong."
Other times, with a major injury like a fall, workplace injury, or an auto accident, quick chiropractic treatment can be the key to getting you on the road to a faster recovery.
At Idaho Wellness Company, if you're experiencing back or neck pain, headaches, strain, stiffness, or soreness, we want to get you out of pain as quickly as possible. We have many treatment options available, including General Chiropractic Care, Massage Therapy, Laser Therapy, and Therapeutic Exercise.
Let us create a personalized plan for you, and get you out of pain today.
Call Today
Regular Chiropractic Care is one of the easiest ways to keep your body in alignment and working its best.
We Accept All Insurances
See what our Clients have to say

After being in an auto accident, we were needing some chiropractic care. Dr. Syrek at the Idaho Wellness Company was great! He is fantastic with kids. My boys love getting adjusted. The office is beautiful and easy to get to. I highly recommend going there. Allisha M.